Online Craps — Roll the Dice at These Online Casinos
The duality of craps is remarkable. On one side, this table game is one of the most entertaining forms of gambling and is hailed for its superb return rates. Conversely, its many betting options and two gameplay phases can be a huge deterrent to the uninitiated.
Many new bettors prefer to play something simpler and miss out on the game's unique advantages. What they don't realize is that online casino craps can be mastered rather easily. In this article, we'll give you a simple explanation of the rules & bets of this table classic, discuss and compare how it's played in different settings, and recommend top gaming sites that offer it for real money.
Best Online Casinos Where You Can Find Craps
T&C's apply to each of the offers. 21+
Top Reasons for Learning the Craps Dice Game
A famous philosopher once wrote: "Those who have a Why can bear almost any How". Thus, before we dive deep into explaining how the game works, it's fitting to give you some good reasons for wanting to learn it in the first place. Let's begin:
The best odds in gambling — The two most basic wagers in online craps come with a house edge of 1.36% and 1.41%. This means that only blackjack and French roulette have a higher Return to Player rate. However, there are "hidden" craps wagers with a 0% house edge. That's right; the casino will pay you true odds on these positions, which is unheard of in other gaming genres.
You don't need to know everything — Since some craps bets are clearly superior to others in terms of return rates, you can safely ignore large portions of the table and adopt a simple but effective playstyle.
There's only one variant of the game — Whether you're playing online or in a real-life venue, the craps rules and betting layout largely stay the same. In other words, you won't have to get accustomed to different versions like in blackjack or roulette.
It's easy to keep things fresh — The multi-faceted nature of this game opens the door for many different strategies. While there's no way to eliminate the risk of losing, you can pick your strong and weak points, which increases the replay value.
Online Casino Craps vs Land-Based Play
Although this dice-throwing classic adheres to the same regulations in online and brick-and-mortar casinos, there are big differences in the way you can experience it. In a real-life craps casino, the social aspect of the game reigns supreme. People gather around and mostly bet the same way, which means that they go through the highs and the lows in unison.
There's nothing wrong with playing like that, but what happens if you want to go against the crowd? Well, some gamblers are superstitious, so you might be on the receiving end of a mean look or comment when you win, and they lose.
In comparison, there's no one to judge you while you're enjoying online craps for money. You have complete freedom to adopt any wagering approach and reap the benefits. Another big plus is that you can often find demo modes of craps that allow you to experiment with strategies without putting your money at risk.
The Craps Rules Any Player Should Know
Alright, it's time to explain how to play the game. The first thing you should look for is a little "ON/OFF" marker on the table.
The ON/OFF marker or "puck".
When this marker shows "ON", it means that a round is in progress. We advise all new players to wait until the round is concluded and the puck shows "OFF". As soon as this happens, you can begin placing wagers. But where? The two essential bets in online casino craps are called "Pass" and "Don't Pass". They are positioned near the outer sides of the table (see the picture below).
When you bet on "Pass", you will win an even-money reward when the next dice roll is a 7 or 11. This wager is a loser when the dice show a 2, 3, or a 12.
Conversely, "Don't Pass" wins on 2 and 3, ties on 12 (you keep your money), and loses on 7 & 11.
The "Pass" and "Don't Pass" bets are essential in casino craps online.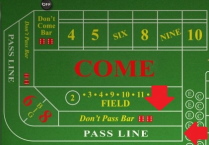 In other words, the two bets are polar opposites. If 2, 3, 7, 11, or 12 are rolled consecutively, you will win or lose while staying in the first "phase" (A.K.A. the come-out roll) of the game. However, when a 4, 5, 6, 8, 9, or 10 appears, the little marker we mentioned earlier turns "ON" and goes to the "point numbers" area.
From here, the only numbers that matter are 7 and the point on which the "ON" marker is positioned. If you've put money on "Pass", you'll win if the dice show the point number first and lose on a 7. "Don't Pass" bettors win on a 7 and lose on the point. Since this is the basis of Internet craps, we'll take an example to make sure you understand:
Craps point numbers.
You start a new game. This little marker is "OFF". You decide to bet on "Pass".
The dice show a 3. You lose but go for "Pass" again. Now, it shows a 7. You win.
After your third "Pass" bet, you see a 5. The puck is placed on 5 in the point number area. Luckily, the next dice roll hits the point, and you win again. The marker goes "OFF", and a new round begins.
7 Is the Best Online Craps Digit
You've probably noticed that 7 is involved in all of the wagers we've discussed so far. That's not because of its lucky reputation. In a game with two dice, this is the most likely combination, as there are 6 ways to roll it. Thus, when you play craps online, it's always good to remember the importance of this number. Now, let's take a look at some of the other interesting wagers.
Craps Odds Bets and Other Awesome Wagers
After you go through a few rounds and get accustomed to how "Pass" & "Don't Pass" work, it's a good idea to learn about the other awesome betting options on the table. Again, you don't need to use all of them at once. Our advice is to read the below explanations, pick one wager, and experiment with it in online craps. Real-money gambling can wait, so use a demo mode. Then, select another bet and repeat the process. You'll learn quite fast that way. Now, let's get going:
Come & Don't Come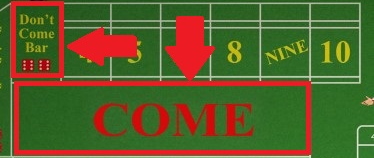 Here's a simple way of explaining these two areas: Come = Pass; Don't Come = Don't Pass. OK, so if they're the same, why do these two exist as separate bets on the table? Well, you can't put money on "Come/Don't Come" until a point has been established (the marker is ON). This essentially allows you to play a game within a game. Let's take an example:
During the come-out roll (when the marker shows "OFF"), you put a chip on "Don't Pass". The result is a 5, and a point is established. Remember, you would have lost the bet if a 7/11 appeared, but since we're in the "ON/point" phase, you need to get a 7 before a 5 to win.
The next step of this simple online craps strategy involves placing a chip on "Don't Come". Essentially, you'll have two positions open. Scoring a 7 will win the "Don't Pass", but you'll lose on "Don't Come". That's not bad, as you'll break even. However, if another point number comes up (e.g., a 9), the money from "Don't Come" will move there.
Now, rolling a 7 will win both of your bets, and if you roll a 5 or 9, you'll only lose one of them. Neat, huh? You can repeat step 2 to "load up your bases", and a single 7 will win all of them.
Taking and Laying Odds: The Best Payouts in Craps Sites
Earlier, we mentioned the "hidden" wagers that feature a 0% house edge. Now, it's time to see how they function. During the "Point/ON" phase, you can take odds on "Pass" and "Come" and lay them on "Don't Pass/Don't Come". There's no specific area for the odds wagers, so you'll have to learn where to place them. Ask the croupier if you're in a real-life casino or take a look at the "Help" section of a virtual game to figure this out.
We'll explain how placing odds (using them with "Pass/Come") works, as it's the simpler and more popular way of playing. You can consider these wagers as a way to get better payouts from the "Pass/Come" positions you have money on. That's because once the point comes up, you'll get a 1:1 payout on a winning "Pass/Come" position, but the true odds of rolling a point number are actually better. With this special bet, you'll get a:
2:1 reward on the point of 4 or 10.
3:2 for a point of 5 or 9; stake even amounts ($4, $6, $8) to not get rounded down.
6:5 when it's a 6 or 8.
Thus, a great online craps strategy is to put a smaller amount on "Pass" or "Come" and then pour in the big bucks when placing odds. Keep in mind that casinos will limit how much money you can stake, as they don't have an advantage here. Typically, you'll be able to put down x3 times your "Pass/Come" stake on a 4/10, x4 times on a 5/9, and x5 times on a 6/8. Some operators are more liberal, while others will outright ban the use of odds, so it's always good to confirm this information.
Pros and Cons of the Field Bet
This stake is one of the easiest to comprehend in online craps. You'll win an even-money payout anytime 3, 4, 9, 10, or 11 comes up. The 2 and 12 usually pay double, but some games increase the prize of 2 or 12 to 3:1. You can easily check this by looking at what's written on the table. Field bets can be placed in both phases of the game and are only valid for the next roll of the dice.
You may think it's easy to get a win here, but a craps casino will usually have a big advantage. 5, 6, 7, and 8 (the dice combinations that are most likely to appear) are not on the field. As such, the house edge is a hefty 5.5%, making this area a no-no. However, if you see a triple payment on the 2 or 12, the edge is reduced to 2.8%. Overall, it's best to avoid the field unless you find a table with boosted payouts or use it in a strategy.
Are Place Bets Worth It?
The craps dice game also allows you to bet directly on any of the point numbers (4, 5, 6, 8, 9, 10) after the come-out roll. To do so, click on the small zone below a number. Winning requires your pick to come up before the 7. This is neat if you have a favorite digit, but we have to note that the payouts are inferior to odds wagers. Here they are:
9:5 for the 4 & 10; use $5 chips
7:5 for the 5 & 9; use $5 chips
7:6 for the 6 & 8; bet in increments of $6
The Bad Wagers of Internet Craps
Avoid this area like the plague.
You can play craps online like a pro without ever worrying about the rest of the wagers. Yes, the zone that we've crossed out has the highest payouts, but the average return rates of these bets are appalling. The only exception to this rule is if you have a few $1 chips laying around and are willing to take a long shot. The most sensible option is to go for one of the "Hardways". To win, the craps rules require you to land the exact dice combination as shown in the picture. You'll lose on a 7 or when an "easy" variant of the number appears (e.g., you've bet on two 4s, but a 5 and 3 come up).
Why We Play at Live Online Craps Casino Sites
Evolution, the most popular and innovative provider of live dealer games, recently introduced its very own craps table. This was a first for the industry, as automating the dice throwing element and creating an intuitive interface has proven to be an arduous task. Now that the technological hurdle has been surpassed, everyone can enjoy a truly authentic version of the game.
This stream is easily the best online craps we've ever played. It works great on computers and mobile devices, it features an "easy" mode for newcomers and even has a tutorial ready for you at all times. Your potential winnings are always displayed and hovering over a betting area shows which numbers are involved. This title makes craps more accessible than it has ever been, but we have to note that you can't play it for free. The casinos with live games on our list have the stream available.
Online Craps Strategy Tips
Like in most other forms of gambling, you can employ a wagering system or strategy in craps. In fact, the dice-throwing classic is quite suitable for such playing styles, as you have plenty of betting options. However, don't believe craps sites or videos that want to sell you the "perfect" strategy. Even the awesome odds bets are attached to others with a house edge, so the casino will always have the advantage.
To prove this, we'll give you a breakdown of a popular strategy that low rollers and new players use. Your exposure per round is $12, so you'll need $100-$120 to go through 10 rounds with this approach. Let's see what you need to do:
Put a $5 chip on "Pass" and another one on the "Field" bet. If a craps casino is willing to pay 3:1 on the 2 or 12 field numbers, you can expect even better returns.
Hope for a 9 or 4 to come up. If they do, you can utilize the winnings from the field bet and two $1 chips to stake two $6 place bets on the 6 and 8.
When an 11 appears, you get $10. If the dice show 2 or 12, you still collect $5, and these winners can subsidize the place bets on the 6 & 8.
On a roll of 3 or 7, you'll break even, so continue.
Where's the catch, you ask? Well, if 8, 6, or 5 become the point, you'll lose $5. These appear quite often when you play craps online, so an unlucky streak is a possibility. That's why it's a good idea to set loss limits beforehand and stick to them.
Practice Makes Perfect
We've successfully covered all the basics and some of the more advanced aspects of craps. However, a written review can only go so far. If you want to become a hot shooter, you'll have to test the game for yourself. The most convenient way of doing so is looking for a free demo at one of the approved online craps casinos on our list. It's best to learn the ropes and understand how everything plays out before wagering real money. Once you're ready, don't forget to claim one of the awesome welcome bonuses on offer, and good luck!